httpvh://www.youtube.com/watch?v=8t6sQPaj8x8&feature=youtu.be
On my 50th birthday, my dear friend, Susan, gave me 50 pennies all made in 1952 – my birth year!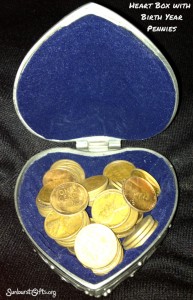 The pennies came in a small heart box. I cherish that gift because it was so unique and thoughtful.
I have used the penny idea many times for birthdays and anniversaries. I use the pennies on significant birthday years such as 30 – 40 – 50 – 60 year old and up.
By the time a couple has been married for 50 years or more, what can you give that they do not already have or that is unique? Fifty pennies from the year of their wedding placed in a heart box is a for-sure-keepsake gift! Especially seeing and remembering those wheat pennies! They bring back the memories of simpler times. Continue Reading