After having my first child, I felt so thankful to friends and family who came and visited bearing gifts of prepared meals. Between breastfeeding and let's see… more breastfeeding, there was no time for anything else!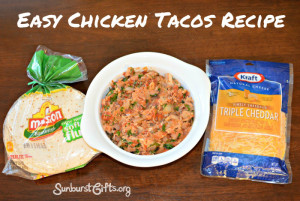 Just by popping the food dishes we received straight into the oven or microwave, my husband and I could eat lots of hot meals with very little work.  It was a blessing I tell you!
Our favorite dish came from one of our family members, Terri, who dropped off shredded chicken tacos and everything we needed to go with it.
Not only was it delicious, but we were able to get two dinners and two lunches out of it which was awesome because those were four meals we didn't have to worry about at all.
I asked Terri for her chicken tacos recipe, and she happily shared it with me. Thanks Terri!
EASY PEASY CHICKEN TACOS

Ingredients:
rotisserie chicken
onion
garlic
cilantro
16 oz. jar of salsa
shredded cheese
flour tortillas
Instructions:
Shred the rotisserie chicken into pieces and set aside. Dice the onion and sauté it in a pan with 1 tsp of minced garlic on medium heat. Add chopped cilantro, salsa and shredded chicken to pan and cook until hot. Serve with tortillas and cheese. Easy peasy!
Make this dish and drop it off with a bag of cheese and a bag of tortillas at the home of a friend or family member with a new baby for a ready-to-eat meal they can enjoy multiple times. If you want, you can also throw in some cervezas!
New parents probably don't need another outfit for the baby, but Mommy and Daddy definitely need nourishment. Give them the gift of ready-to-eat meals whether you cook it yourself or do takeout from their favorite restaurant.
Hold puppies, kittens, and babies anytime you get the chance.  – H. Jackson Brown, Jr.