When it comes to being healthy, it really boils down to your habits. What are your habits when it comes to what you eat, your portion sizes, and your amount of physical activity?
Habits can be formed at a very early age. Kids are like sponges and putty like that.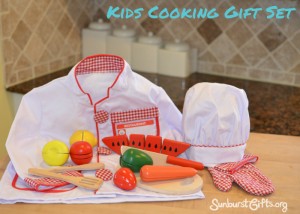 As parents and caregivers, we have an opportunity to help shape children's habits when it comes to healthy eating. It begins with getting them in the kitchen to help with the cooking and introducing them to the wide variety of delicious fruits and veggies that exist.
Nothing gets children more interested in joining their parents in the kitchen than having their own chef's hat and apron or jacket. When you're dressed the part, you feel like the real deal!
For my son's third birthday gift, I bought him the Melissa & Doug Chef Role Play Costume Set
that comes with its own measuring spoons and wooden cooking utensils.
But every chef also needs a knife and some food to cut up! So I also bought him a Melissa & Doug Cutting Fruit Set – Wooden Play Food
and Melissa & Doug Cutting Food
that he can enjoy slicing into pieces with his own wooden knife.
My husband and I cook a lot at home because we enjoy cooking and because we want to enjoy healthy meals. At restaurants, you have no idea what how much fat, salt and butter goes into your food. By cooking our food ourselves, we have full control over all of the ingredients – not to mention it's a heck of a lot cheaper.
We want to involve our son in the kitchen as much as possible so we can instill in him an important life skill – cooking – so that he can fuel his body with nutritious food his entire life.
If you think about it, isn't the gift of healthy eating habits one of the best gifts parents can give to their children?
The greatest wealth is Health.  – Unknown