When my son, Aiden, turned either one or two years old, he received Elephant & Piggie books for his birthday.
Before then, I had never heard of Elephant, Piggie or their author and illustrator–Mo Willems.
Well, Mo Willems is a children's book genius and his books contain a unique style!
It wasn't long before I ordered more books to add to our new collection.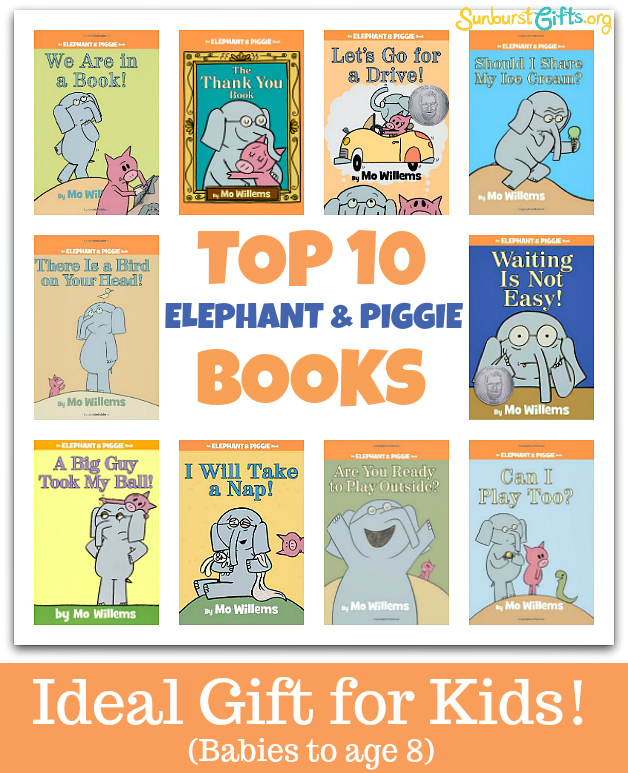 Mo Willem's Elephant & Piggie books are filled with simple drawings that allow the words, facial expressions and body languages to stand out and make the story come alive.
The books also touch on important life lessons that children should know such as how to be a good friend, how to be kind, how to be patient, how to share, and how to work together to solve problems.
Award Winning Book Series
Several of Mo Willems' books have won prestigious awards, including the Theodor Seuss Geisel Medal. Before he wrote children's books, he worked as a writer on Sesame Street.
My personal favorites are Waiting Is Not Easy and There is a Bird on Your Head. Aiden loves Let's Go for a Drive! and Axl loves Should I Share My Ice Cream?.
Do you want to know why I think the Elephant & Piggie books are so great?
My test for what is a great children's book is… that children love to listen to the story over and over and over again, AND I take pleasure in reading the story out loud over and over and over again. The Elephant & Piggie books totally ace this test!
The Elephant & Piggie books are ideal for young children and early readers (babies to 8 year olds).
If you find yourself needing to get a gift for a child, make sure to introduce him or her to Elephant and Piggie!
Of course you can purchase the books individually but you can also purchase Elephant & Piggie Biggie books that combine multiple books. I recently found out there are 25 total books in the series, and you can purchase them all in one bundle called the Elephant & Piggie: The Complete Collection.
What an amazing gift for a child's home library!
P.S. Mo Willems also writes the Pigeon book series. My boys and I love them too!
Today I will fly!

– Piggie